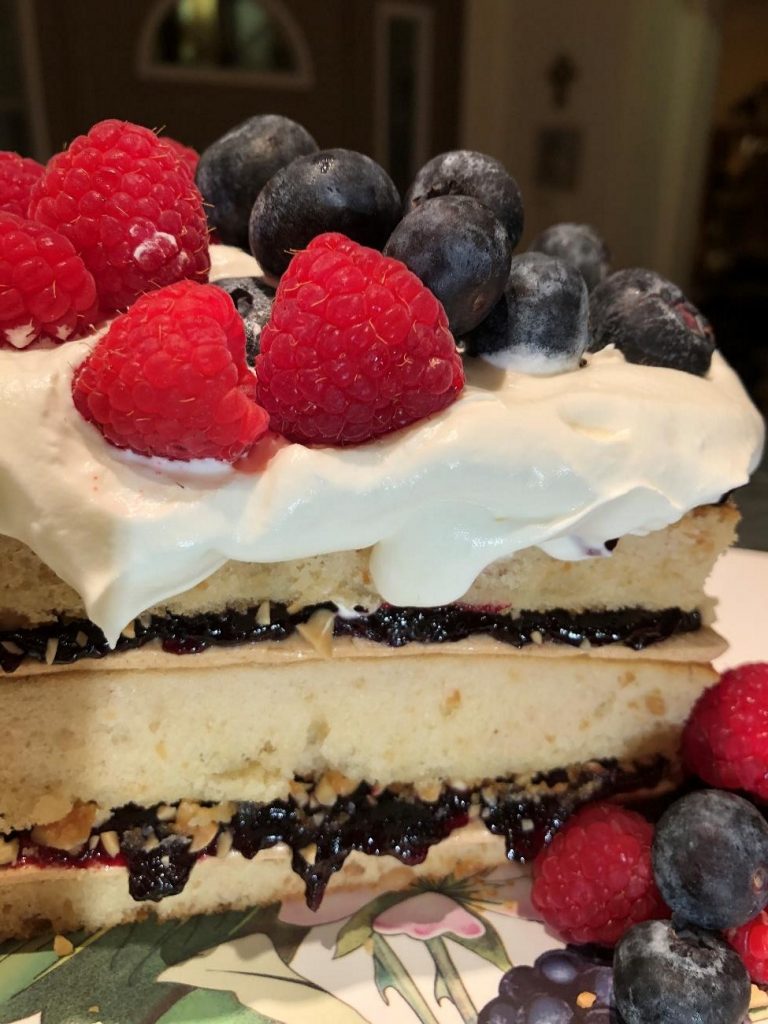 INGREDIENTS
1 c. coarsely chopped unsalted peanuts
1 sponge cake (recipe below)
1 jar marshmallow cream (such as Marshmallow Fluff)
3/4 c. smooth peanut butter
2 tbsp. confectioners' sugar
1/2 c. Moss Berry Farm jam
1 c. whipped cream or frozen whipped topping
Garnish: Berries and Peanuts
DIRECTIONS
Heat oven to 350°F. Line a 15 1⁄2 x 10 1⁄2-in. rimmed baking sheet with wax paper. Coat with nonstick spray.
Prepare and bake sponge cake.
Cool cake in pan on a large wire rack 15 minutes. Invert on rack, remove paper; cool completely. Place cutting board on cake; flip both over to transfer cake to board.
At least 2 hours before serving: Mix marshmallow cream, peanut butter and confectioners' sugar. Refrigerate 1⁄2 hour.
Trim cake edges. Cut cake crosswise in thirds. Place 1 layer on platter. Place 1⁄2 marshmallow mixture between sheets of wax paper; roll into a rectangle same size as cake layer. Peel off top paper; flip onto cake on platter. Spread 1⁄4 cup jam to within 1⁄2 in. of edge; sprinkle with 1⁄4 cup nuts. Repeat with another cake layer (still on board). Place on cake on platter. Top with remaining cake layer. Refrigerate.
Shortly before serving: Swirl topping on cake and garnish.
Sponge Cake
INGREDIENTS
4 large eggs
2 cups white sugar
2 cups all-purpose flour
2 teaspoons baking powder
½ teaspoon salt
1 cup milk
¼ cup unsalted butter, cut into pieces
2 teaspoons vanilla extract
DIRECTIONS
Preheat the oven to 350 degrees F (175 degrees C). Grease and flour a 9×13-inch baking pan.
Beat eggs in a stand mixer fitted with the whisk attachment on high speed until thick and lemon-colored, about 3 minutes. Gradually add sugar, beating until mixture is thick, about 5 minutes. Fold flour, baking powder, salt and peanuts into the batter by hand.
Microwave milk in a microwave-safe bowl until it begins to bubble, about 1 minute. Add butter and stir until melted. Stir in vanilla.
Pour hot milk mixture into the batter; blend on low speed until well combined and smooth. Pour into the prepared pan.
Bake in the preheated oven until a toothpick inserted in the center comes out clean, 25 to 30 minutes.
---