This is a pretty easy dessert to put together. If you're in a rush you can always buy the merinque and sponge cake. You can also use any jam you have on hand though a jam like raspberry or black currant, with their tart edge, really works well.
---
INGREDIENTS
300ml 35% cream
1/2 cup (60g) pure icing sugar, sifted
1 tsp vanilla bean paste
Finely grated zest of 1 lemon, plus extra zest to serve
200g mascarpone
100g meringue, crumbled
2 x 8′ or 9″ round sponge cakes
1/2 cup (160g) Moss Berry Farm Wild Blueberry and Rraspberry jam, warmed
1/2 pint blueberries
1/2 pint raspberries
Mint leaves, to garnish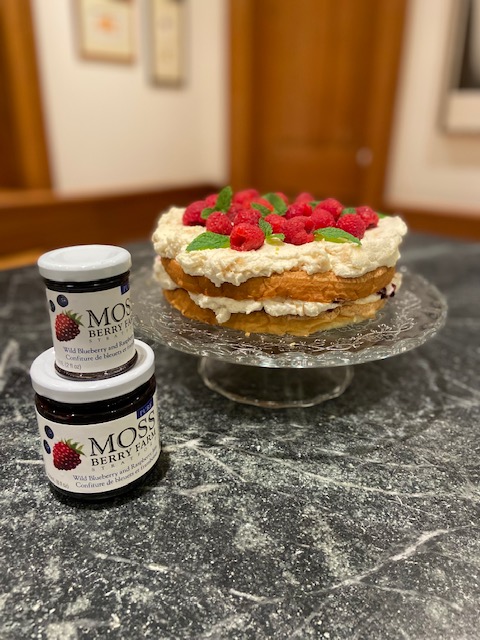 METHOD
Place cream and icing sugar in a bowl and whisk to soft peaks. Add vanilla, lemon zest and mascarpone, and whisk to firm peaks. Fold in meringue.
Place 1 sponge on a serving plate and spread with half the jam. Top with half the meringue cream, then drizzle with remaining jam. Top remaining sponge with remaining meringue cream, using a palette knife to create peaks, then place on top of first cake.
Scatter with blueberries and raspberries, mint and extra lemon zest to serve.
---