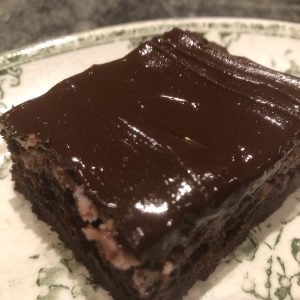 I've made these a few times and they really hit the spot. You can substitute in your favourite brownie recipe. I have made these with a brownie recipe that called for melting chocolate and the dough was much softer than this one. When it comes to swirling in the cheesecake using this recipe is a bit trickier because the batter is stiffer but the results were just as good.
INGREDIENTS
Brownie Batter (Fry's Cocoa recipe)
1 1/3 cups all-purpose flour
1 teaspoon baking powder
1/2  teaspoon salt
1 c. butter
1 c. cocoa
2 c. sugar
4 eggs
1 1/2  teaspoons vanilla
1 c. chopped nuts, optional
or
1 c. fresh raspberries
Cheesecake Batter
8 oz. cream cheese, room temperature
1/4 c. raspberry jam, good stuff like Moss Berry Farm of course!
1/4 c. granulated sugar
1 egg yolk
Icing
7 oz. dark chocolate
1/4 c. unsalted butter
PREPARATION
Set oven to 350F and grease or line a 13x9x2 inch pan.
Mix all-purpose flour, baking powder, and salt in a bowl. Melt butter in a saucepan. Remove from heat. Stir in the cocoa. Blend in sugar, eggs, and vanilla. Blend in dry ingredients and chopped nuts. Pour batter into greased.
Mix all the cheesecake ingredients together until smooth.
Drop large dollops of cheesecake batter on top of brownie batter and using a skewer, swirl the cheesecake mixture around to incorporate it into the brownie batter.  You do want to have clumps of the cheesecake so don't mix it too much. Press raspberries into batter.
Bake at 350F for 30 to 35 minutes.
When the brownies are cool, melt the chocolate and butter together and spread on the brownies.
---